By Joseph Ballin 10/11/2017 6:09 PM EST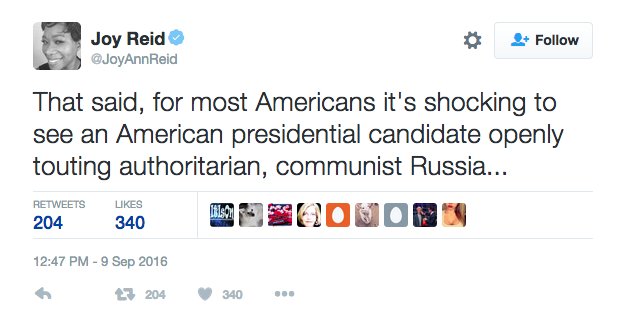 Over the last year or so now, we have experienced a way of Russophobia, the likes of which we haven't seen in this country since the 1950s. Now because of both the Democratic and Republican parties we are on the bring of World War III and potential nuclear Armageddon. It feels like a million years ago when Barrack Obama made fun of Mitt Romney at a debate over calling Russia America's number one political foe.
Since Trump has gotten into office the Russia fear mongering has kicked up in overdrive. Let's go over some of the stuff Trump has signed that makes him a "puppet" of Putin:
USA imposes sanctions against eight Russian companies. Link: https://sputniknews.com/world/201703251051965233-us-russia-sanctions/
Consolidated Appropriations Act, 2017, authorized $100 million dollars for the "Countering Russian Influence Fund", to counter "Russian influence and aggression" and to "support civil society organizations in Europe and Eurasia." It also included a measure imposing new restrictions and oversight on Russian diplomats in the United States. The Act also includes provisions that no appropriated funds may be used to support the Russian annexation of Crimea and assist Crimea, if such assistance includes the participation of Russian Government officials, or other Russian owned or controlled financial entities. It also states that no funds may be used to support "the Russian occupation of the Georgian territories of Abkhazia and Tskhinvali Region/South Ossetia" or to assist the central governments of other countries that have recognized the two territories' independence. Link: https://en.wikipedia.org/wiki/Consolidated_Appropriations_Act,_2017
Failure to congratulate Russians on Russia Day, first administration to do this in 25 years. Link: http://russia-insider.com/en/politics/spineless-trump-first-potus-not-congratulate-russian-holiday-25-years/ri20103
On July 6, 2017, during a speech in Warsaw, Poland, Trump urged Russia to cease its support for "hostile regimes" in Syria and Iran. Link: http://www.jpost.com/American-Politics/Trump-calls-on-Putin-to-distance-Russia-from-Syria-and-Iran-498972
Countering America's Adversaries Through Sanctions Act (Sanctions on Russia) Link: https://en.wikipedia.org/wiki/Countering_America%E2%80%99s_Adversaries_Through_Sanctions_Act
Two Russian diplomatic annexes (buildings) in Washington D.C. and New York City as well as its Consulate General in San Francisco are shut down and seized by the US government. Link: https://www.rt.com/news/401866-russia-diplomatic-properties-occupation/
DOJ wants RT to register as a foreign agent. Link: http://www.foxnews.com/us/2017/09/13/russian-network-rt-told-to-register-as-foreign-agent-in-us-it-says.html
This all happened under Russian puppet Trump's presidency. And yet we have these idiots out there claiming Trump is secretly working for Vladimir Putin. The end results of all this Russia fear mongering is not about Trump. This is something I've been trying to point out for a while, this has nothing to do with Trump, he's just a puppet of the elites to further their own agenda. The real achievement of this Russia fear mongering is to turn America back towards Cold War era war mongering.
A recent poll shows most Americans would support sending US troops to Latvia if Russia were to invade. Link: http://www.newsweek.com/us-military-europe-most-americans-want-troops-baltics-if-russia-attacked-648458 We now have so called liberals out there retweeting neocons like David Frum and Evan McMullin. However, not forgetting the Republicans and conservatives, the war state is now targeting them as well. Without any evidence what so ever, we now have people claiming Russia is behind BLM and "racial tensions" in the US, because racial tensions didn't exist prior to Putin in the US. Previously the US government had claimed the Soviet Union at the time was behind the civil rights movement at the time.
Anytime the mainstream media focuses on something, you should always ignore it. If they focus on Russia or something stupid Trump tweets, you should go out of your way to ignore it and look up actual fucking news. We shouldn't have to be worrying about a "evil" foreign government rigging our elections when we already have elections are basically rigged and all the exit polling doesn't even remotely match the results. Keep in mind, the US government used exit polling irregularities as justification for overthrowing the Ukrainian government in 2014.