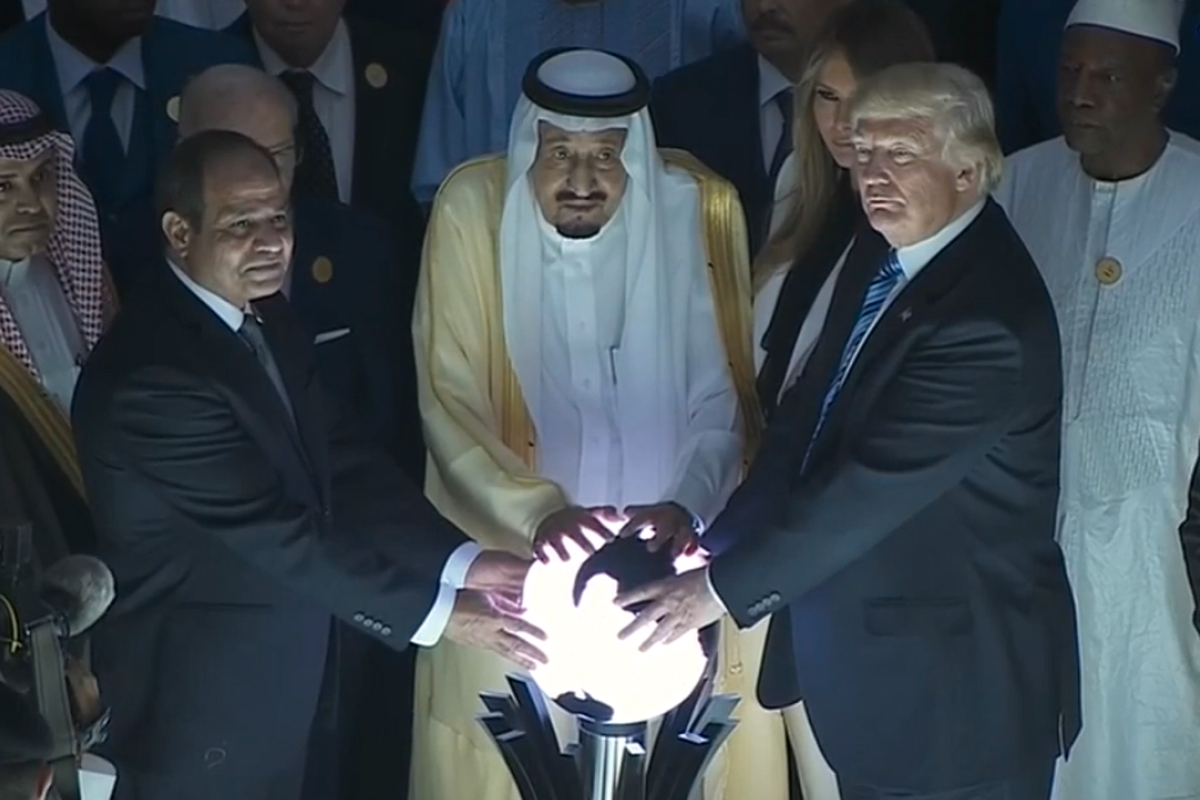 By Joseph Ballin 5/23/2017 5:14 AM EST
I don't think it's wrong to say America is the most evil nation in world history. When Donald Trump described himself as a "nationalist and a globalist" I didn't think it was a contradiction in terms. America has also been on a nationalist bent for global domination of the planet. Since President McKinley, America has seen a revision of our grand global imperialist ambitions. Prior to McKinley, dating back to First Anglo-Powhatan War, the Anglo settlers of what would be the USA embarked on a genocidal campaign of extermination of the natives of this land. In early 17th century, Captain John Smith, leader of Jamestown, envisioned that the Native Americans of Virginia would one day be doing the work for English colonialists. Nothing about democracy or freedom were invoked in this American Holocaust.
McKinley began the great American revisionism. Instead of conquering brown people for land, we would now conquer brown people to "civilize" them. The great myth of spreading American "exceptionalism" began with the Spanish American War. If we look at every war ever fought by the United States, the only wars that the United States fought in a defense manner from an attack on the United States was World War II and the initial conflict with al-Qaeda, which was never a declared war. However, to say that Japan, Italy, Germany, al-Qaeda didn't have legitimate reasons for coming into conflict with the United States is absurd. In response of Japanese invasion of Vichy French Indochina, FDR enacted an oil embargo on the Japanese Empire, which lead directly to the attack on Pearl Harbor.
On September 11, 1941, FDR ordered the United States Navy to shoot on sight if any ship or convoy is threatened in the Atlantic Ocean. This was response to the "Greer incident" on September 4, 1941, off the coast of Iceland, when German submarine U-652 fired, but did not make contact, with USS Greer after USS Greer received a signal from a British bomber that a German submarine was in the vicinity. Greer made sonar contact, and pursued the U-652 at close range. The aircraft dropped four depth charges, and soon after the U-boat fired a torpedo at the US warship, perhaps believing USS Greer had launched the attack.
As for Italy, on June 15, 1941, FDR freezed all US assets towards Italy and other Axis nations. So Germany, Italy, and Japan all had legitimate reasons for declaring war on the United States. What about al-Qaeda you would ask? Well let's take a look shall we. The December 6, 1993 newspaper of The Independent described Osama Bin Laden as an "anti-Soviet warrior" who's "recruited mujahedin now uses them for large-scale building projects in Sudan." Osama was once America's ally against the "evil" Soviets in Afghanistan, one that the CIA funded greatly as shown in "Charlie Wilson's War".
Later, after the Soviet withdraw from Afghanistan, in 1990 Saddam invaded Kuwait, after getting signals from Washington that he had the green light to do so. The Saudis began pushing for an intervention against Saddam's annexation of Kuwait. Osama stated that his mujaheddin fighters could expel the Iraqis from Kuwait. Saudis rejected his offer for American soldiers to come into Saudi Arabia, set up military bases, and expel Iraqi forces from Kuwait. Osama began strongly criticizing the US occupation of the holy lands of Islam by foreign crusader troops. Another thing Osama would cite in his reasons for the September 11 attacks was America's support for Israel over the Palestinians. Osama was not stupid, he would read people like Noam Chomsky and had a masterful plan to bring down the superpowers of the Soviet Union and USA by bogging them down in endless occupations overseas. His plan is still being carried out to this day.
This is not to justify the actions of the Axis powers or al-Qaeda. I am simply stating that the myth that America is this innocent actor in world events and the only reason they hate us is because of our "freedom" is total bullshit. Every action has an equal reaction. The golden rule, "do unto others as you would have them do unto you", is something we should abide by when it comes to foreign policy. Imagine if a terrorist Quebec liberation group feed Canada to the USA, began performing terrorist attacks against Canada, and Canada responded by drone bombing American cities, killing thousands of civilians in the process. How would Americans respond when the chickens come home to roost? Because that horror we all experienced on 9/11, the middle east has known almost every day ever since.
Links:
https://en.wikipedia.org/wiki/Anglo-Powhatan_Wars#Early_conflict
http://archives.chicagotribune.com/1941/06/15/page/9/article/f-d-r-freezes-all-u-s-assets-of-axis-nations/
http://www.history.com/this-day-in-history/united-states-freezes-japanese-assets
https://en.wikipedia.org/wiki/German_submarine_U-652#The_Greer_incident